How ActivREC works?
ActivREC provides reports on the activity of all employees of the company. It helps to understand whether employees are productive and if not, it enables the analysis of details to identify any problems that have arisen. The program helps to measure and optimize the productivity of teams and individual employees. It is based on an efficient database optimized to provide users with instant results, while ensuring protection, encryption and privacy of processed data.
Tracking application
Tracking application, i.e. an agent is a program that collects data on employee activities. It can be downloaded after logging into the system - it contains a unique account identifier, thanks to which it does not require additional actions from the user, e.g. entering a login and password. The agent works in the background, is invisible to the employee and does not load the operating system.
Agent (employee's computer)


Administrator panel (server)
Information gathering
Visualization of the received data
Detecting threats
Defining security alerts
Taking screenshots
Screenshot orders and overview
Website blocking
Defining security features
Automatic updates
No user action is required
Actions that the agent performs:
- collects information about employee activity to the ActivREC cloud,
- performs commands ordered by the user (manager / company owner), e.g. screenshots and website blockers
- in case of disconnection, it collects data locally and sends it after reconnection

Administrator panel
The Administrator's Panel is a set of tools available at https://activrec.com that allows the User to view all collected data in a readable form. It allows you to review employee activity in terms of productivity, used applications and visited websites.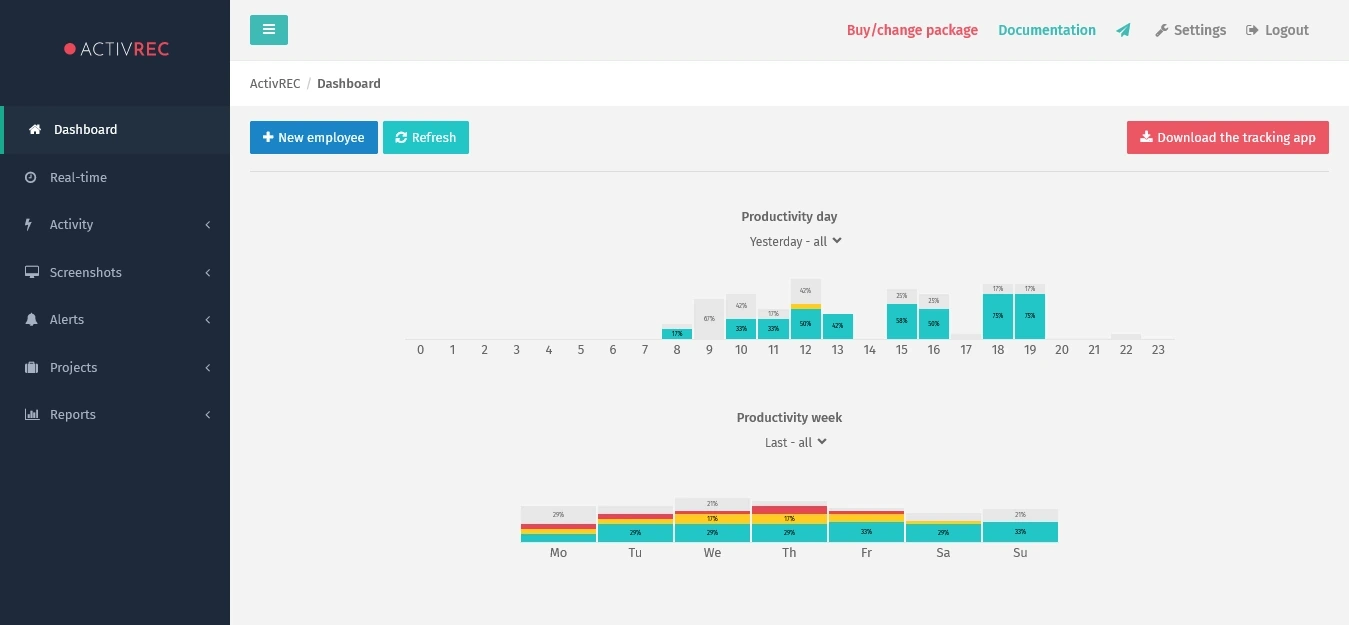 The panel allows you to define teams and assign computers to employees. It also allows you to mark activities as productive and unproductive, create categories of applications and websites. Using the panel, you can also block selected URLs and entire domains and define security alerts, which relieves the company's management from the need to constantly check employees.

Ready to Get Started?
Start monitoring immediately with ActivREC. It's free for 30 days.
We do not require a credit card. You can cancel at any time.